Tawny Port vs. Sauternes Charoset Challenge
Every year our family celebrates Passover in the Spring, and one of my favorite dishes to make during Passover is Charoset – see how eater defines the dish here. It's one of those dishes where many people have different takes on the dish depending on the family tradition. Our family has both Sephardic and Ashkenazi roots, but when it comes to Charoset, I think our family is more on the side of the Sephardic culture. Instead of apples and walnuts, we create our Charoset with noor dates, raisins, and walnuts. About a decade ago, we started "fancying up" our Charoset with a bottle of Quinta dos Canais vintage port that I got as a gift. The resulting Charoset was so delicious that we swore off ever putting bad wine or kosher grape juice into our recipe ever again. 
This year, armed with inventory from Master the World, we added yet another twist. Some years, I would feel bad about opening a 750 ml bottle of port only for it to be wasted after making Charoset because no one wants to drink that much port on its own in our house. This year, I was inspired to make two different batches. Batch #1 is a Charoset made with Ferreira's Dona Antonia Reserva Tawny Port, and Batch #2 is a Charoset made with Chateau Laribotte Sauternes 2016. Both wines were rebottled by Master the World.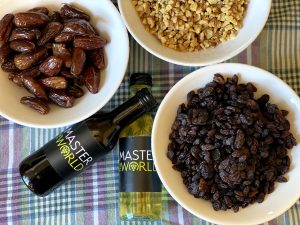 It was a fantastic experiment on so many fronts. First, the 187 ml bottle was the perfect size to make one batch plus a little leftover to drink while making the Charoset. Second, I was particularly excited because I used bottles that have been bottled for over a year and the wines tasted amazing! The tawny port was actually bottled in December 2017 – YES! It was from our first bottling trial when we bottled a bunch of different varieties, experimenting with a myriad of anaerobic rebottling techniques! And it was aromatically gorgeous, vibrant in the mouth, and complex with layers of nuances. The minute I tasted the wine, I just knew that it was going to up my Charoset-game this year! 
Third, it is almost sacrilegious not to drink Sauternes on its own and to cook with it instead – it is one of my absolute favorite wines after all! But this particular bottle had been sitting in our winery warehouse in a return kit from the summer of 2020 for one reason or another, so I didn't feel so bad about cooking with it. Incredibly, the sauternes tasted sublime after all this time and hot summer travel that I was so proud of our rebottling process! But I digress…back to the recipe.
The process of making Charoset is very straightforward. I don't have any measurements to share and channel an old Jewish grandma's approach in making the dish – Completely by feel and by tasting. I start with equal parts of the noor dates, raisins, and walnuts, and everything goes into our trusty Cuisinart food processor. Then I start tinkering with a bit more walnuts than everything else… Once blended into a paste, I begin adding the alcohol to get the paste into the right jammy consistency. Tasting, tasting, and tasting all along the way, of course! 
We eat this rich, jammy relish on matzah practically every meal, breakfast, lunch, and dinner to end our meals on a deliciously-sweet note! So what's the verdict for the Tawny Port vs. Sauternes Charoset challenge? Our family of 4 unanimously voted for the Tawny Port Charoset! That's really fine by me…I would happily drink Sauternes on its own any day!